Are you one of those who can't wait for a free weekend to go on a trip, or do you prefer to spend your spare time in the warmth of your home? It's human nature to strive to fulfill our desires and sense of satisfaction. If you love challenges, travel can be the source of positive energy. A life filled with travel is full of adventure. Getting to know another country, culture, interesting people, tourist attractions and even learning a foreign language, always teaches you something new and makes you have a dose of adrenaline when this word is mentioned.
If you have decided to take a break from everyday life and go on a trip with friends, how does going to Airlie Beach sound to you? I'm sure some of you have thought "oh Australia seems too far away" or "I'm afraid of flying", but I assure you that this is one destination that should be on your bucket list, and here's why.
About Airlie Beach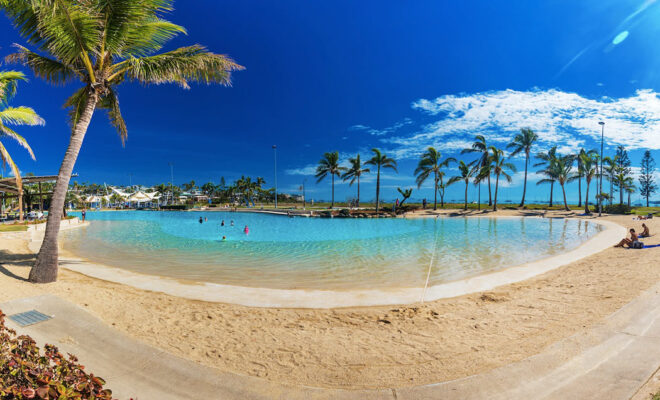 Airlie Beach is a tropical resort located on the Whitsundays in Australia. Whitsundays consists of 74 breathtaking islands, and Airlie Beach is its land center. This tourist place provides amazing beaches, coconut palms, a beautiful ocean and a colorful world in it. It is important to mention that Airlie Beach has a subtropical climate so it has nice weather during the whole year.
In summer the temperature reaches 32 ° C while in winter should be wonderful 23 ° C, so our warm recommendation is to visit this place between spring and autumn. If you like sailing, diving, hiking or just sunbathing and enjoying the beautiful sandy beaches, you can have it all in one place. Airlie Beach offers many more benefits that you certainly could find and visit only there, and we will help you discover some of them.
Activities you can do on Airlie Beach
1. Treat yourself to a sailing adventure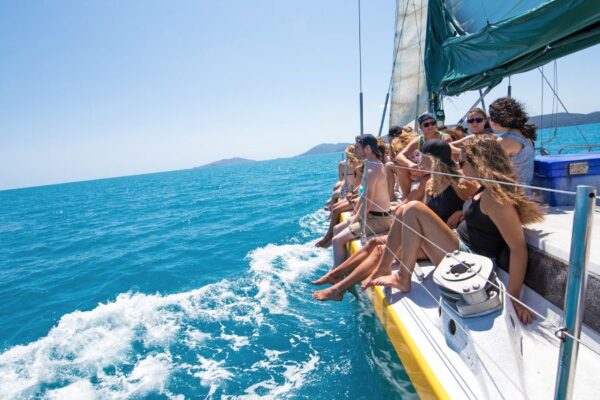 When we think of sailing, the first thought that crosses our mind is that it's a very expensive hobby. However, this is not the case, at least not in this magical part of the world. In this beautiful place, the locals have made an effort to help you learn to sail with a little patience and time. Imagine yourself sailing on the tropical sea, doesn't that sound wonderful?
This challenge will give you access to remote bays and inlets where other ships will not be allowed to sail. So, gather friends, buy drinks and enjoy on deck in the sun and the sight on beautiful islands you pass.
2. Explore the surrounding islands and beaches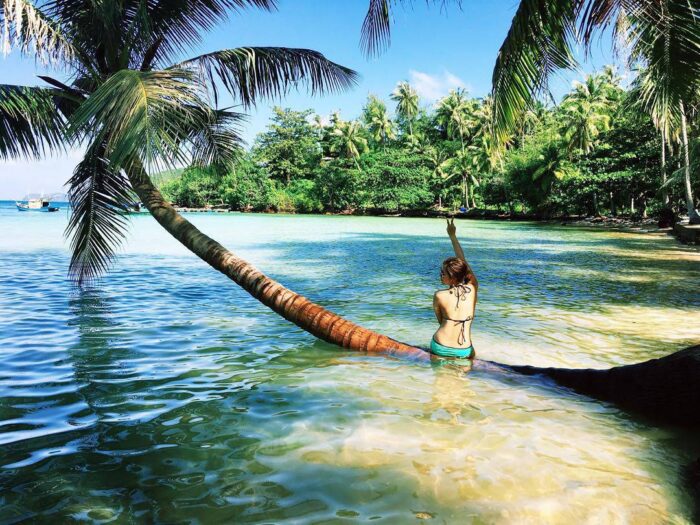 Airlie Beach is surrounded by beautiful beaches, islands and of course the ocean. We advise you to visit the islands nearby and enjoy their beauties. Islands like Hyman Island, Daydream Island and Hamilton Island offer you adventures you can't even imagine. Play golf, kayaking and paddleboarding, enjoy the beautiful sunset or dance on the beach with a cocktail in your hand.
Airlie Beach is not the only beach that captivates with its beauty, there are also Ceteran Bay, Rose Bay, Crayfish Beach, etc. Most of them have white sand that blends perfectly with the coral, turquoise color of the ocean. You would have a feeling that you're stepping on silk while you're walking through these beaches.
To get to the mentioned beaches and islands, you don't have to rent a boat or take on the helicopter, consider rafting and embark on another adventure in a row!
3. Enjoy the Airlie Beach Lagoon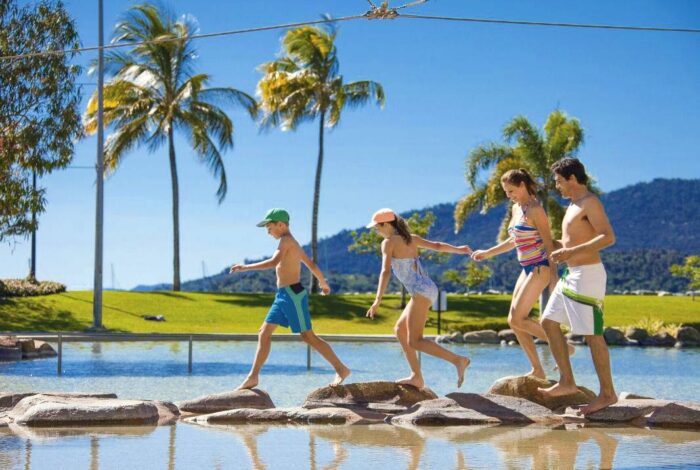 Airlie Beach Lagoon is located near the main promenade of this city. Swimming in this lagoon will bring you incredible pleasure. The large pool surrounded by sandy beaches and grassy hills is certainly a wonderful place to enjoy the sun and total relaxation. This is the right place for the family because close to this lagoon there is a park with a children's pool and playground, so your little ones will equally enjoy the beauties of this place.
4. Go snorkeling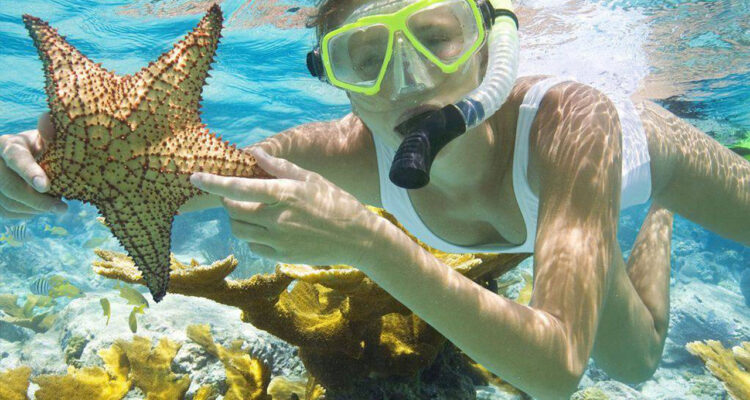 If you have the opportunity to see that colorful sea in front of you, I am sure you will wonder what would the world be like in it. And here you could easily explore it. With a breathing tubes and fins, you can reach a certain depth by diving with a mask. That will be enough distance for you to enjoy the beautiful ocean colors and catch a sight of the sea animals that you've never had the chance to see before.
If you haven't had a chance to dive with a mask before, don't worry. Training for beginners is available to you, and during the dive you will have an experienced diver with you so that you can enjoy it without interruption.
5. Where to stay and eat?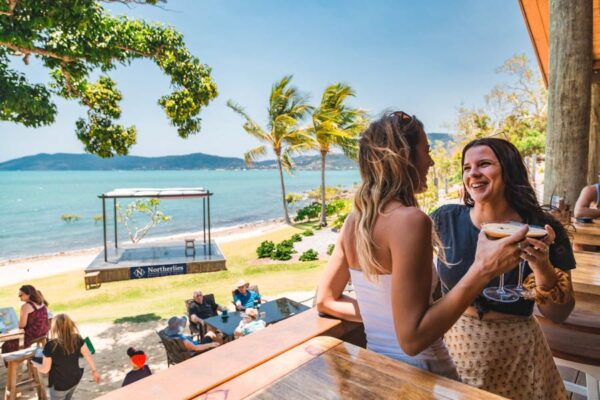 Airlie Beach is a place with only around 1000 inhabitants, which means that it's primarily a tourist place that offers a lot to visit. After a full day of exploring this place, you will need comfortable accommodation and a delicious meal, right? Now that you could read the full range of activities and ideas that you can do on this beautiful beach, we want to help you in this area as well.
The city is quite small, but in this regard, it offers a huge number of accommodations. Whether you want to be right by the sea or you want to be surrounded by palm trees and coconut, it's up to you. Accommodation is available to everyone, to make your search easier, with the help of a Harbour Cove you can choose from luxury villas to beautiful hotel rooms.
When we talk about food you must try the seafood! Freshly caught seafood with a beautiful view of the ocean will give you a unique feeling of peace and contentment. Many restaurants are located on the beach, so looking for a restaurant not be annoying to you. After reading this article, did you get the desire to buy a plane ticket right away and feel the magic of Airlie Beach?
I know I did! We all need a break from the whole situation that we're all in and forced us to stay in our homes for too long. Maybe our daily lives have become a bit boring due to these circumstances, but it's time to change that! I hope the suggested things to know If you are planning to travel to Airlie Beach have helped you choose your travel destination. Pack your backpack, put a smile on your face and you will get everything else in this amazing city!