If you're planning on installing a swimming pool in your backyard, you should know that the entire process is exciting and fun. However, this excitement can quickly turn into a nightmare if it isn't built according to all the regulations in the industry, which is why it's extremely important for you to choose a pool building company that is reliable and that is good at what it does.
But, you probably never had to choose such a company before, which is why you might be wondering – how can I know if I'm dealing with a bad pool builder? Luckily for all homeowners that are wondering the same thing, the article below can help. Let's take a look at what you need to be careful about:
Warning Sign 01: If The Website Doesn't Feature a Portfolio
One of the first things that you must look for when dealing with a pool building company is the portfolio of their previous work. If you cannot find a solid portfolio of previous clients, you might want to stay away from that particular organization. After all, building such a structure will require a lot of experience and for the commissioner, it'll take a lot of money.
Not having a portfolio on their website is a huge red flag, mostly because you'll want to learn what types of projects they previously worked on and if you don't learn this, you'll be risking your budget to a company that cannot prove that they're credible and that they know what they're doing.
Warning Sign 02: If They Don't Want to Share Past Client Info
No matter what company you're thinking about hiring, if they hesitate or don't want to share the information of their previous clients, they probably have something that they want to hide from you. If they, in fact, provide reliable, safe, and high-quality pool building services, they'll be pleased to share this information with you. So, if this isn't the case with the company you're thinking about hiring, opt for one that is more trustworthy and transparent.
Warning Sign 03: Terrible Online Reviews or no Reviews at All
Third on this list is an important factor that you need to consider – terrible online reviews or no reviews at all. When you open a reliable pool building company's platform, you should be capable of finding the reviews immediately, however, if you cannot find it, you might want to opt for a different organization.
The reviews are extremely important because you'll be able to determine whether or not previous clients had a good experience. Keep in mind, if there are more negative than positive testimonials, it's pretty clear that something didn't go right for a lot of people, so, close that site and move on to the next one.
Warning Sign 04: If They Don't Put Safety First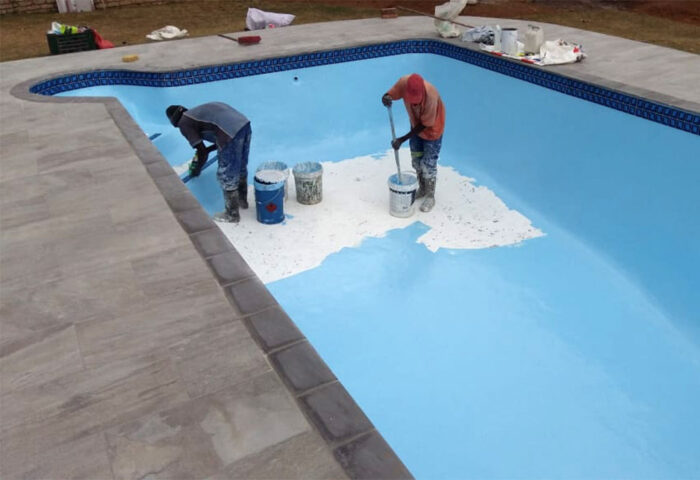 There is a wide range of safety risks that come with swimming pools – something that is especially true if you have young kids or if you have a family member that doesn't know how to swim. A professional and experienced company such as the one feature on this website will take safety and security seriously.
Some of the things that a reliable company will advise against are, for example, diving boards or a really deep end on one side of the pool. Besides this, they'll probably offer some safety structures such as a fence around your pool, something that'll help you with keeping your kids safe.
Warning Sign 05: If They Try Changing The Requirements You Have
When you're working with a professional organization, the representatives will try to work with you in order to provide you with what you need, and they'll also advise you on what you could and maybe shouldn't do. In the end, it really comes down to the requirements you have.
If an organization insists on the recommendations they have, it might imply that they aren't experienced, nor skilled to meet the demands and requirements you have. If you do find yourself in this situation, you'll definitely want to avoid hiring them and choose a firm that'll respect your wishes.
Warning Sign 06: If The Contract Doesn't Protect You
Generally speaking, contracts exist as a way to protect all the parties involved in creating them. However, a reliable firm will probably be quite generous, which means that they'll add some additional benefits that'll work in your favor, but that'll still cover them in one way or another.
On the other hand, when you're working with an amateur, they'll only be focused on their company, even if it does cost you in the end. This means that you must ensure that you read the contract before signing anything, and if you see that it doesn't protect you, move on to the next choice.
Warning 07: If They Don't Provide Support Later on
A lot of homeowners think that the process only involves the building of the pool, however, this isn't entirely true, especially since this is only one part of the entire process. After it's built, you'll need to maintain it regularly and if you have support from the contractor you opted for, you'll be able to ensure that your pool lasts for a really long time.
However, if the company you're dealing with doesn't offer any kind of support once they're done installing the pool, you must stay away from them. This is why it's extremely important for you to ask whether or not you'll have this type of support before you choose the firm you'll hire.
Conclusion
If you're thinking about installing a pool in your backyard, one of the most important things that you must ensure is to choose a trustworthy, experienced, and professional pool building company. And, if you notice some of the warning signs we mentioned above, you should move on to the next organization.
So, now that you've learned what factors do you need to consider, you really shouldn't waste any more of your time. Instead, you should open up your browser and start searching for an organization that'll provide you with the services you need, and more importantly, that'll know what they're doing.