Ah, breakfast – the meal that kick starts your day and lets you pretend to be a morning person, even if you're not. it isn't just about feeding your tummy; it's about feeding your brain. Imagine showing up to an early morning meeting with your brain half-dead and your tummy begging for food. Breakfast is your chance to swoop in, rescue your energy levels, and prevent morning grumpiness.
If you think breakfast is boring, you could not be more wrong. The United States is a breakfast wonderland, offering a delightful array of morning snacks that will tickle your taste buds and brighten your day. The options are endless, from one of the best pancakes served in Pigeon Forge or bagels to the famous New York breakfast. The key is to keep switching up so that you're never bored.
Do you often skip eating in the morning and starve yourself till lunchtime? Well, all of that is about to change. Here are some of the food items you should try that would never make you want to skip the most important meal of your day ever!
Stacks on Stacks on Stacks: The Pigeon Forge Breakfast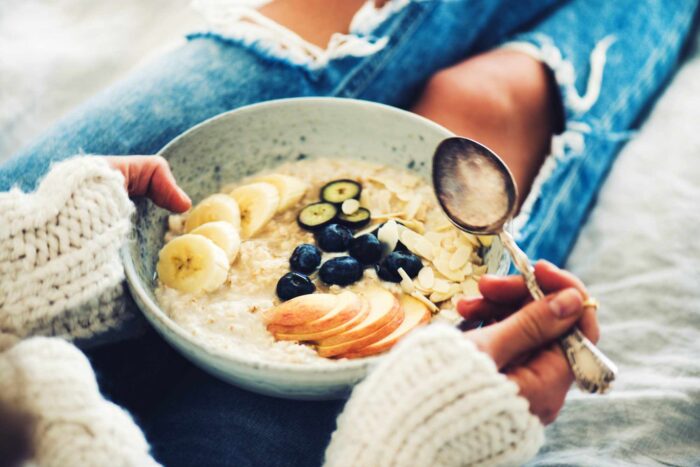 Picture this: a stack of pancakes so towering it could double as a skyscraper. Especially in Pigeon Forge, Tennessee, bigger is better for pancakes.
While exploring the charming town of Pigeon Forge, start your day with a delightful breakfast featuring the pancakes Pigeon Forge is famous for. There's something about enjoying a pancake breakfast in this charming Tennessee town that takes your morning meal to a whole new level.
Oh, and you get to devour pancakes with the backdrop of the stunning Smoky Mountains.
Biscuits and Gravy – Southern Comfort
When in the South, do as the Southerners do – savor the delight of fluffy biscuits smothered in creamy, savory sausage gravy. The sausage gravy is mostly seasoned with just the right amount of pepper and spice and clings to the biscuits like an old friend, inviting you to savor each mouthwatering bite. It's a comfort food extravaganza that'll warm your heart and your stomach.
Each southern region adds its own twist to this dish. From red-eye gravy with coffee to sawmill gravy with ground sausage, each variation brings its own unique charm to the table.
Not only that, but you can also add eggs, bacon, and hash browns to complete the breakfast palate. If you catch yourself greeting people with a smile at 8 a.m., it's probably the southern breakfast working its charm.
Bagels from the Big Apple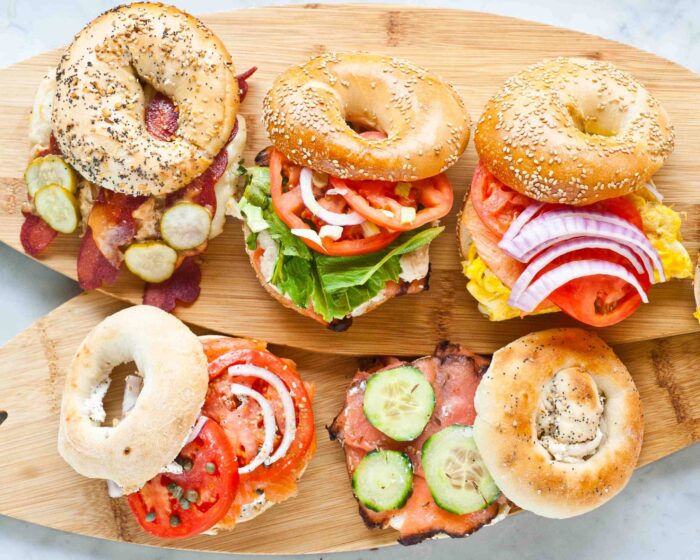 New York City is known for its iconic bagels, and you haven't truly experienced breakfast until you've had a classic New York-style bagel. These doughy delights, with their chewy interior and crispy exterior, are the perfect morning companion and a breakfast staple that deserves a spot on your culinary bucket list.
From classic sesame and poppy seeds to more adventurous choices like everything bagels, New York offers a bagel for every palate. You can even dress up your bagel with lox, capers, onions, and a squeeze of lemon for the ultimate experience. And don't forget the schmear- it will take your bagel from zero to a hundred!
Chicken and Waffles – The Perfect Combo
If you love to combine sweet and savory for breakfast, this epic combo is just for you. Although this pairing will sound unconventional to some, it is, in fact, a mind-blowing combination.
A truly unique American invention, chicken and waffles combine crispy fried chicken with sweet, fluffy waffles. The chicken is crispy on the outside and tender on the inside, seasoned to perfection. The delightful crunch of the waffles paired with it will make you return for more.
The best part about this breakfast? It knows no bounds when it comes to personalizing this delightful combination. Whether you prefer to drizzle your dish with maple syrup, smother it in gravy, or add a dash of hot sauce for some heat, there are endless ways to enjoy it.
Avocado Toast – The Millennial Marvel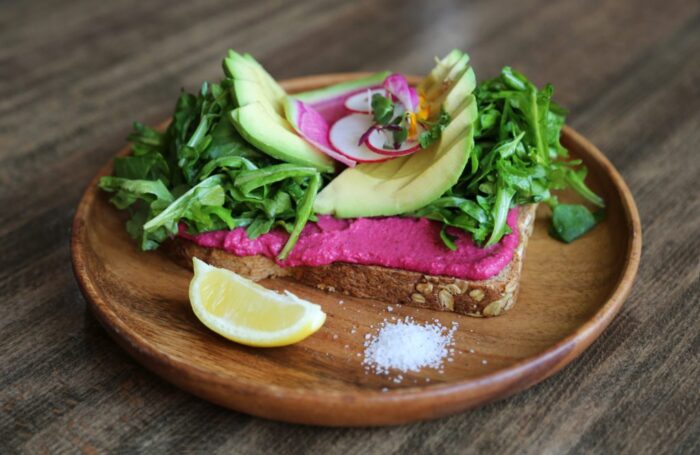 For a healthier twist on breakfast, look no further than avocado toast. This simple yet elegant creation has captured the hearts (and Instagram feeds) of millions around the world. Millennials were the first ones to embrace the idea of smashing avocados onto a piece of toast and enjoying it for breakfast.
For a simpler avocado toast, add a pinch of salt, a drizzle of olive oil, or a dash of red pepper flakes. Remember not to get carried away with the flakes if your spice tolerance is as low as a baby's.
If you want a fancier avocado toast, top it with eggs, bacon, or a sprinkle of everything bagel seasoning for extra pizzazz. Topping your toast with feta cheese or smoked salmon is also an amazing idea.
Donuts – Glazed Goodness
Do you have a massive sweet tooth and love everything sweet for breakfast? Look no further than the classic meal of donuts paired with a tall cup of latte. The US is a donut paradise, offering endless flavors and shapes, from classic glazed to gourmet creations.
Donuts are the epitome of breakfast convenience. They require no preparation, cooking, or fuss. Instant comfort food allows you to ease into your day with minimal effort. The flavors are endless, from chocolate and Boston crème to fruity and even savory options.
Sometimes, it's okay to be a little unhealthy and savor the joy of each bite of goodness.
Tex-Mex Breakfast Burritos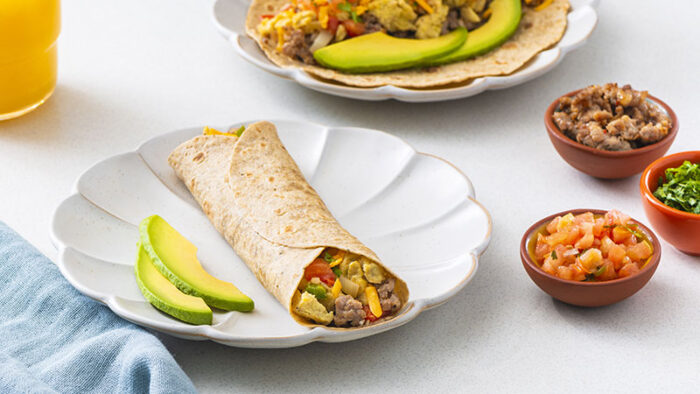 Tex-Mex breakfast burritos are a perfect marriage of Texan and Mexican culinary traditions. You'll find the hearty influence of Texan breakfast staples like scrambled eggs, crispy bacon, and savory sausage, mingling with Mexican flair through spicy chorizo, zesty salsa, and creamy avocado. It's a flavor fiesta!
One thing's for sure—Tex-Mex breakfast burritos are not shy about heat. Whether it's the fiery kick of jalapeños, the smoky depth of chipotle peppers, or the tongue-tingling touch of hot sauce, spice is an integral part of the Tex-Mex flavor profile. So, if you don't mind kick-starting your day with spice, this burrito is a mind-blowing option.
French Toast: Bread, Batter, and Bliss
If any breakfast dish radiates comfort and goodness, it's the French toast (the pancakes, too). The beauty of French toast is in its versatility. Whether you prefer it drizzled with maple syrup, dusted with powdered sugar, or topped with fresh berries and whipped cream, there's a topping to suit every craving. You can even add a touch of cinnamon to give it the kick it needs.
French toast pairs harmoniously with a variety of sides and beverages. From crispy bacon and sausage to a steaming cup of coffee or a glass of fresh orange juice, it complements your morning rituals perfectly.
Conclusion
Remember, breakfast is not just about feeding your body; it's about feeding your soul. So, whether you're a pancake pioneer, a bagel buff, or a donut devotee, the US has a breakfast dish with your name on it. Get out there, explore, and share your breakfast adventures with the world. You wouldn't want to skip the most important meal of your day!