Welcome to Key West, Florida, a city renowned for its energetic vibe and gorgeous beaches. However, there's still more! A magical world full of undiscovered treasures lies beyond popular tourist destinations. Prepare for a remarkable journey through Key West's historic charm.
Dive into remote beaches where time stands still, explore mysterious, long-forgotten historic ruins, and learn about distinctive local hangouts. This article will introduce you to extraordinary encounters that will leave you with priceless memories. So with the help of this write-up, take a detour and let Key West's hidden gems show themselves to you. Prepare yourself for a unique experience!
A Comprehensive List Of The Hidden Gems One Should Explore At Key West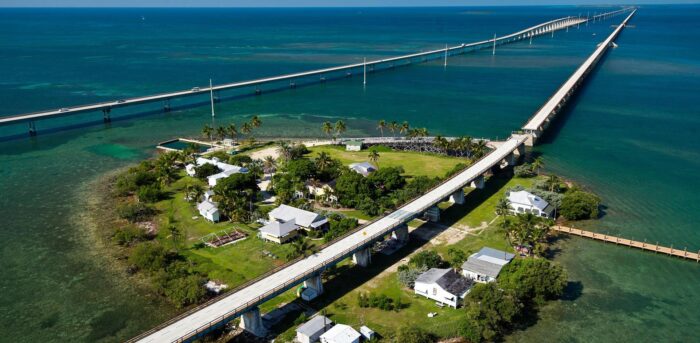 If you visit a place like Florida, especially Key West, you will be in awe because of the many places and destinations to check out. The beauty of the nations cannot be engulfed within a few days. However, if someone has a tight schedule and wants to check out the most mentioned worth places in Key West, here is a list that might help in choosing which destinations to visit:
Embrace Authentic Key West Culture on Duval Street's Quiet Side
Discover the Duval Street mysteries in Key West and venture beyond the crowded tourist area to discover a world of real adventures. Explore this famous boulevard's less well-known areas for a unique cultural trip. Discover unique gifts made by gifted artists and artisans by perusing local art galleries and stores.
Discover hidden treasures dishing up a tasty variety of meals with Cuban influences and fresh seafood specialties to get a genuine experience of the island's tastes as you indulge in the dynamic culinary scene. And for those looking for a special night out, explore the secretive world of speakeasies and hidden cocktail bars, where skilled mixologists create inventive and delicious cocktails in a cozy atmosphere.
Unwind At The Secluded Smathers Beach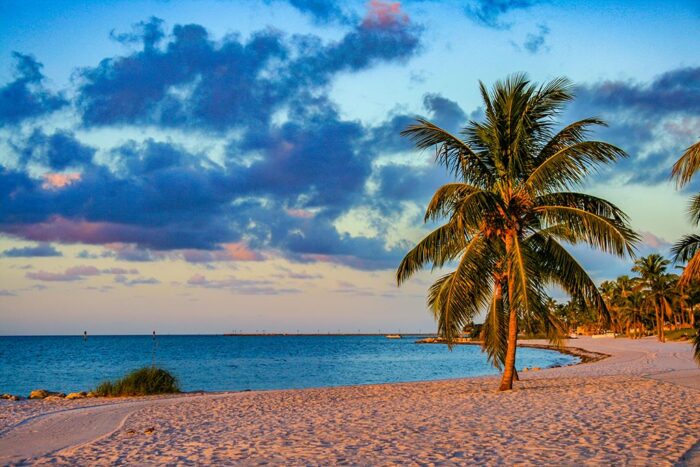 Smathers Beach is a hidden treasure in the colorful tapestry of Key West's beach scene, luring explorers looking for peace and excitement. This extended length of sandy paradise tucked away on the island's eastern side beckons you to flee the crowds and find comfort in its quiet embrace.
The sun warmly bathes you as you spread out your towel, and the rhythmic ebb and flow of the water soothes you into a state of perfect calm. Smathers Beach, however, is more than simply a place to unwind. It provides a playground of opportunities and encourages you to explore. Please participate in thrilling water activities like kayaking, paddle boarding, and jet skiing as the clear seas beckon you to explore their depths.
Do Not Forget To Check Out The Sandbar Charter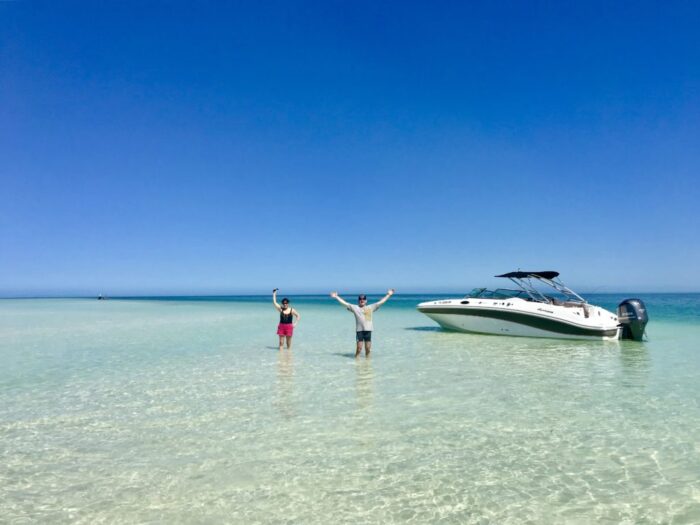 Set sail on an aquatic escapade like no other, thanks to Seamonkey Charters, the premier Key West sandbar charter for thrill-seekers and beach lovers alike. Get on a posh boat and head out to the perfect sandbars that appear in the pure seas like ethereal islands
As you get closer, you'll see an unbelievable sight: a fleeting oasis where land and sea meet in a stunning exhibition of the natural world's grandeur. Wade crosses the shallow depths and plunges into the cool turquoise sea.
Feel the smooth, powdery sand between your toes. Enjoy a cold beverage while relaxing on the boat's deck and enjoying the sun's warm embrace. Take part in water sports like paddleboarding or snorkeling to explore the diverse marine life beneath the surface.
Unveiling The Secrets Of Key West's Shipwreck Museum
At Key West's Shipwreck Museum, be ready to take a fascinating journey through time as the city's nautical past is brought to life in a captivating way. Step inside this fascinating haven of maritime legends to learn the truth about perilous journeys across the harsh Florida Keys.
Learn about fascinating displays that bring the stories of shipwrecks and the subsequent heroic salvage operations to life. As you tread onto a painstakingly recreated shipwreck and feel the sea spray on your face, history comes to life here.
Experience interactive exhibits that will pique your interest while admiring historical items that attest to brave sailors and courageous salvagers' struggles. The Shipwreck Museum is a unique window into the past that invites history buffs and wanderers to explore Key West's nautical past and solve underwater mysteries.
Experience The Natural Wonders Of Dry Tortugas National Park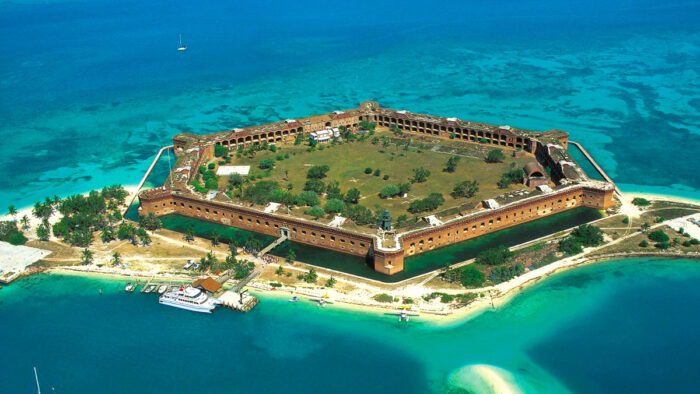 Set off on an unmatched journey to the unspoiled splendor of Dry Tortugas National Park, located 70 miles west of Key West. This hidden treasure is only reachable by seaplane or boat, yet it provides a world of delights waiting to be found.
Every individual would surely be mesmerized by the beautiful coral reefs in the park, where a thriving undersea kingdom is teeming with various marine species. You can always dive into the calm waters, immerse yourself in an ethereal ballet of tropical fish and vibrant coral gardens. The majestic Fort Jefferson, a 19th-century coastal fortification cloaked in stories and secrets, stands among this natural beauty.
Stroll Through The Enchanting Botanical Gardens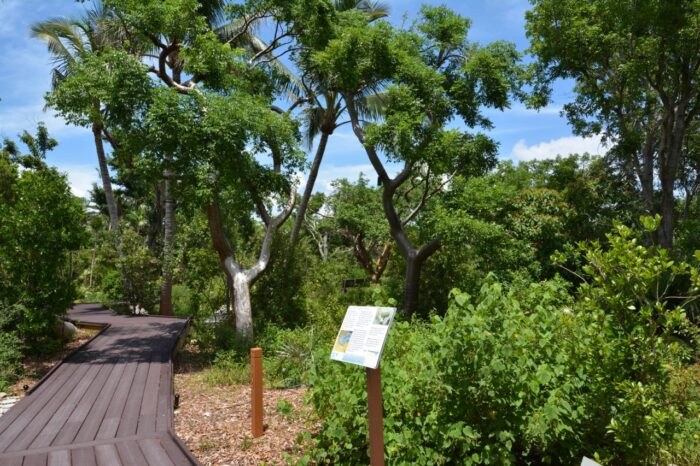 Enter a world where bright blossoms and lush tropical vegetation weave a striking tapestry of the craftsmanship of nature.
Explore the magical paths, where every turn reveals a fresh discovery, from native plant habitats showcasing the adaptability and diversity of the local flora to exquisite butterfly gardens draped with delicate wings of iridescent beauty. Lose yourself in a tropical forest's embrace as light streams through the lush canopy, illuminating the ground beneath you with an ethereal glow.
The mysteries of this floral wonderland are revealed during guided excursions, which also discuss the ecological importance of each plant that thrives there. The educational programs available will enthrall families and nature lovers and give an immersive experience in this lush oasis.
In the Key West Botanical Gardens, you may find comfort among the symphony of nature's sounds and discover your place of reflection and renewal.
Conclusion
Key West, Florida, is home to a wealth of undiscovered treasures. Explore the tranquil Fort Zachary Taylor State Park, enjoy the quiet side of Duval Street, relax at remote Smathers Beach, and learn the mysteries of the Shipwreck Museum. The Key West Butterfly and Nature Conservatory is a treat, and Dry Tortugas National Park is a natural treasure. You may also meander around the lovely Key West Botanical Gardens.
These undiscovered gems provide an exceptional experience that will introduce you to Key West's genuine charm and help you make lifelong memories away from the busy masses. Explore Key West's best-kept secrets on an extraordinary journey and accept the magic that lies ahead.